DOUGLAS A. AMES
Shortly after graduating from Harvard while concentrating in biology and chemistry, Doug Ames started a thermal energy storage company after developing a 47 degree F eutectic salt used to shift air conditioning electricity usage in large commercial and industrial buildings from on-peak to off-peak hours. The company, Transphase Systems, Inc., grew rapidly, installing systems the world over. Eventually, electric utilities, particularly Southern California Edison, forced Transphase out of business by refusing to pay under a contract with Transphase. Ames then went to law school and sued the utilities. His first case after passing the bar was against Edison. After a seven week jury trial, in which Ames was both the main witness and the attorney, Transphase obtained a $6.3 million jury verdict. 
Read More
.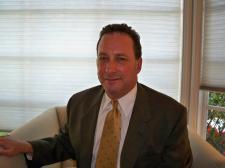 Because of this, Ames decided to become an attorney to fight back for his legal rights. During that period, Ames had to work hard during the day time, so he went to the law school at night. While fighting the utilities during the day, he graduated from law school with a number one ranking from night school, and number two overall.
For the near twenty years, Ames has been practicing employment and business litigation. Attorney Ames is here to vindicate your interests and achieve justice in your case. He has the practical business and legal experience that you need.

Bar Admissions:
California State Courts, 1998
U. S. District Courts for the Central and Northern Districts of California, 2002
U. S. Court of Appeals for the Ninth Circuit, 2004
Education:
Harvard University, B.A. cum laude, 1980
Western State University College of Law, J.D. magna cum laude, salutatorian, 1998
Professional Associations and Memberships:
State Bar of California
Orange County Bar Association